Meet Our Staff
Evangelina Medina, Office Manager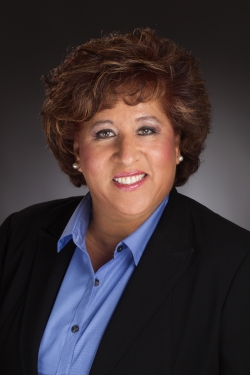 Evangelina, our Office Manager, has over 18 years of experience in the Dental Care field. She provides a respectful environment for our Patients as well as our Staff.
She has extensive knowledge in dental insurance, third-party financing companies and, more importantly, she makes sure our Patients clearly understand their insurance coverage and their dental treatment.
Always with a desire to help our Patients with her knowledge in dental health and financial issues, she continues take educational courses in such matters as well as in the area of office administration.
Outside of her profession, Evangelina enjoys swimming and currently lives with her family.
---
Perla Ramos, Assistant Manager
Perla has a Bachelor's Degree in Business Administration and has 6 years of experience in Dental Office settings.
She is responsible for helping to make sure the office runs efficiently and smoothly and that every Patient is treated with dignity, respect and courtesy.
When not at work, Perla enjoys spending time with her family, doing outdoor activities and reading a good book.
We are simply honored and delighted to have her with us.
---
Elsa Zamora, Receptionist
Elsa is a complete professional that is currently studying to become a Dental Assistant and will soon graduate as such.
She posseses great skills and extensive knowledge in the dental insurance and benefits area.
Her dedication to the attention of our patients is admirable. From the type of service she offers through the phone, to the unique courtesies she extends to every person that walks through the doors of our office, her personality, character and concern for the satisfaction of our patients really shine with excellence.
She has become a truly essential member of our team.
---
Juan Gonzalez,
Dental Hygienest
Juan Gonzalez, RDH, BS, is well trained in a broad range of the latest preventative care terchniques, ranging from non-surgical periodontal procedures to localized delivery of chemotherapeutic agents. He concentrates on providing his patients with personalized, professional and confortable care. He enjoys all aspect of dental hygiene including working with geriatric patients.
Juan graduated from Foothill College with an Associates Degree in Biological Sciences and went on to get his Bachelor's Degree in Dental Hygiene from the School of Dentistry at the University of Southern California. He is a member of the American Dental Hygienist Association and the California Dental Hygienist Association.
---
Fernando Carranza,
Dental Assistant
Fernando has been a great addition to our team that brings great energy and a desire to always give his best to his work.
He is a graduate of Everest College and brings 3 years of experience in the dental care field. And his determination to continue his personal growth and education to one day become a Registered Dental Assistant is something that we all truly respect.
It is obvious that he loves what he does, that he enjoys working with the Dentists in our office, and that his top priorities are listening to the patients he cares for and making sure they always feel comfortable and satisfied with the level of service and care he provides.
---
Elizabeth Garcia,
Dental Assistant
Always with a positive attitude and always professional, Elizabeth is a very important member of our team.
Her experience, knowledge and skill level, when combined with her desire to help and serve others, make her the kind of Dental Assistant that we love to work with.
She's a complete team player that we know that she can always be counted on.
Among her many great character traits, her humuility always stands out as yet another reason we respect her so much.
Elizabeth is a complete professional in every way.
---
Alyssia Sled, Dental Assistant
The moment she set a foot in our office, Alyssia made it a much better place to work at.
She brings her unique and sparkly personality along her professionalism and dedication, Alyssia has a special way of making our Patients feel welcome and does her best to help them feel at ease and relaxed.
Alyssia really enjoys working alongside her co-workers. We are super happy to have her with us.
She is determined to continue her studies and is an aspiring Dental Higenist or a Dentist.
During her off time, she likes to spend her time with her family.
---
Sarita Tejeda-Torres, Dental Assistant
Sarita has been an outstanding Dental Assistant since 1997, and it shows. We are very fortunate to have her in our team.
When not at work, she loves to spend time with her family outdoors.
She is always striving to improve herself on a personal and professional level (aspiring to become a Registered Dental Assistant) and is an inspiration to everyone in our practice.
---